Each time I encounter a "find", I will notify you via Rick's Picks. More as a way for you to think like a savvy buyer than to imagine you might find the exact same wine at the exact or lower price than I found it. You probably will not discover exactly the same thing, but it will give you a good idea of what to look for in a wine and how to screen out the bad from the good: the strategies of finding a good wine at a good price.
I have developed a rating system which calculates on a 100 point scale. It ranks how good a buy the wine is at the time of tasting. I call it Rick's Value Score. This includes marks for appearance, varietal aromas, vinous aromas, bouquet , mouthfeel,, lack of off flavors, finish, and remaining life expectancy.
Why, you ask, did I bother to create this method of evaluating wine when perfectly good systems already exist such as Wine Spectator's 100 point scale? Simple, the Wine Spectator scale is useful for them but I wanted a cleaner system that was not so opaque to the beginning consumer.
For example, in their February, 2019 issue, they summarize the results of 15,017 tastings. 3% received a rating of 95 to 100, 43% a score between 90 to 94, 47% between 85 to 89, 6% between 80 and 84 and below 80, less than 1%. In other words, it in all the diversity of wine they tasted, all are summarized by a 20 point difference. There is no underlying map of how they arrive at these scores. For the beginner, I felt it would be much more useful to have a scale that reflects more like a bell curve and less like grade inflation.

Guigal Crozes-Hermitage 2015
I was really worried that this excellent drinking wine would not score so well on Rick's Value Score. I was concerned that when you added the 10 categories up, it would come up short. Having represented this wine as a wholesaler for many years, I still buy it today as the go to wine for those times I want to treat myself to a very good but not bank account emptying experience that is guaranteed to please. I wondered if the Value Score would hold. I was not disappointed.
Rich without being unctuous, clear, ripe syrah flavors shone through. Firm mouth feel and a backlayer of tannin with aromas of blackberry that fills the glass. At 13.5 % it has a agility that wines higher in alcohol are often missing: this is more a halfback than a fullback if you catch the analogy. The excess of alcohol in those wines often dominate and you taste little else.
The wine should improve for 10 more years.
(Tasted in 2019)
The wine scored on
Rick's Value Score
a
90
(My friend Lloyd would add that the vintage was a winemaker's dream and that the vineyards are terraced so the vines do not get a lot of water which bolsters concentration. Marcel and his son Philippe are totally dedicated to quality.)
Recently tasted below--- Coppola Claret, Kirkland Russian River Pinot and Montecillo Riserva Rioja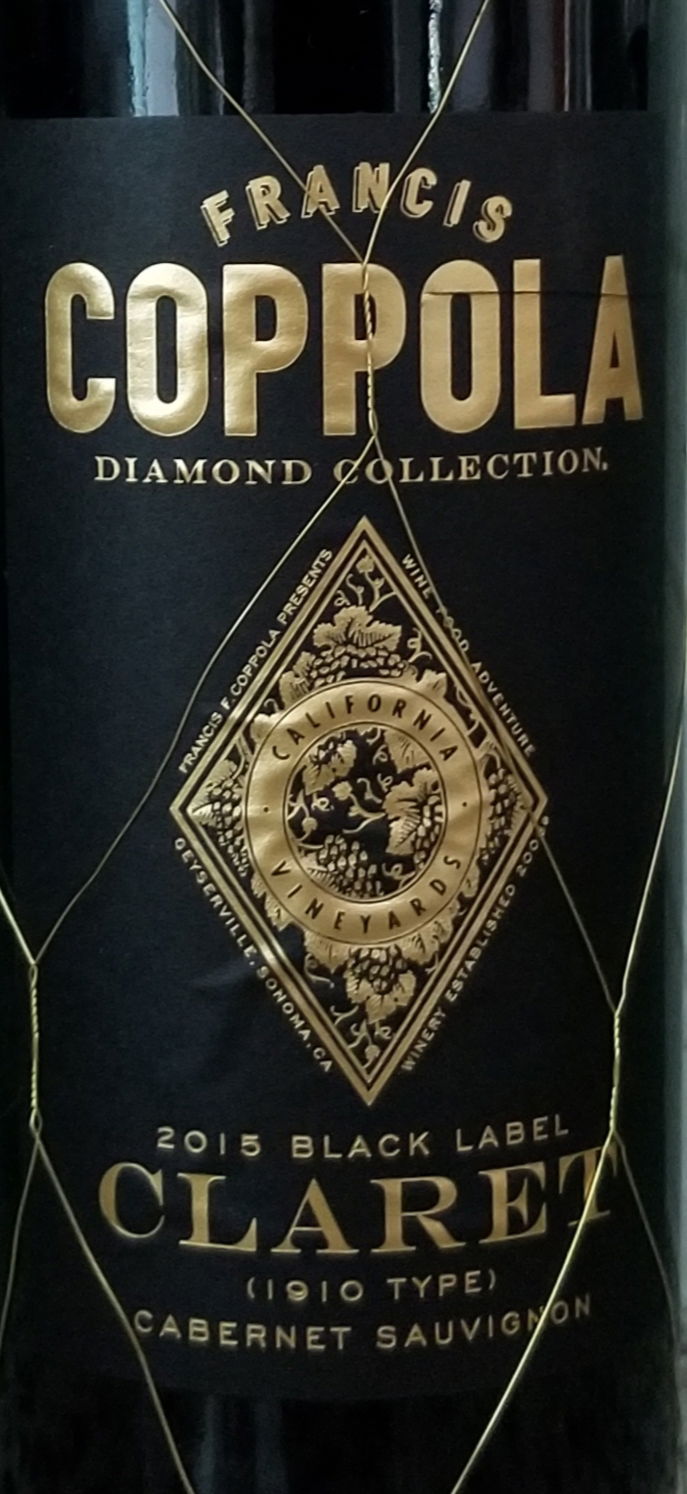 Coppola 2015 Black Label Claret
To be frank I was expecting more from this wine. I worked in Bordeaux and created a Claret style wine for the Oxbridge Faculty Unions. Claret is a marketing term for the old style British Bordeaux Blend: in this case it adds the term Cabernet Sauvignon because at least 75% of the grapes are of that variety. There is a small amount of Petite Sirah which is not a Bordeaux varietal and I assume they added it to give the wine a little more body and depth? The rest is Petit Verdot. It is 13.5 % alcohol. I am behind in vintages since it is 2015 and now it is May 2019. I would expect a wine that costs over $15.00 to show a greater ability to age than this wine shows. Maybe I got an off bottle or one that was badly stored? Heck, it happens.
The wine manifested blackberry and cassis flavors as the marketing blurb says when first opened but lost them within six hours. It was a pleasant medium body blend but I suspect it would have been more supple if it had some merlot? Whatever the case, I would recommend drinking up and for the first six hours, you have a very drinkable Cabernet Blend. (Tasted in 2019) The wine scored an 86 on Rick's Value Score.
Kirkland Russian River Valley, Sonoma County Pinot Noir 2017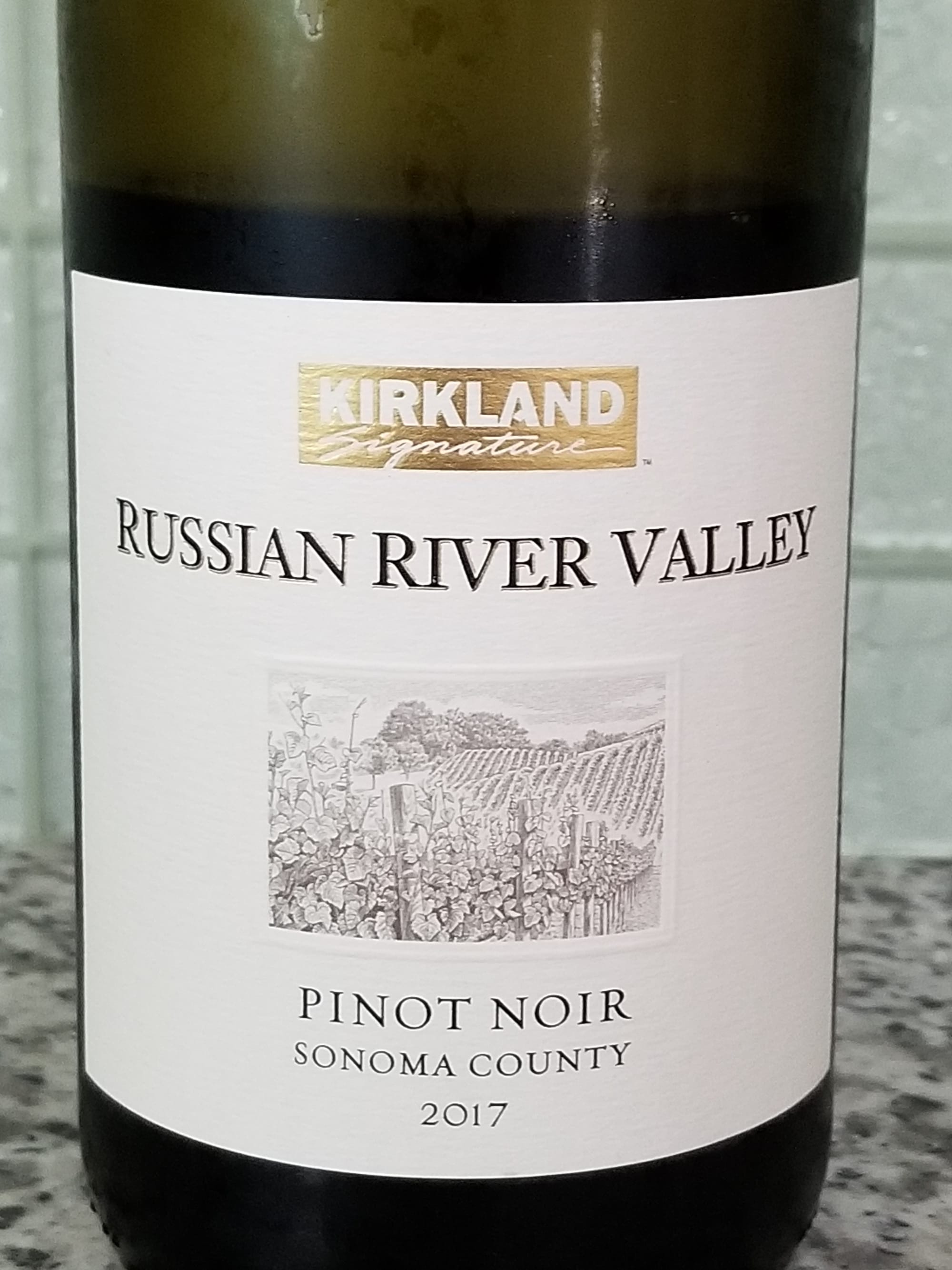 Any time you try a wine where the company doesn't own the vineyards, you have to add an additional level of caution. Kirkland is the Costco generic brand which is sometimes a great value when they hit the jackpot and are selling very good juice at a very good price and sometimes .... Since they don't own vineyards, you might like the wine the first time and not so much the next. Anyway, Russian River Pinots are generally pricey but they, in my estimation, are some of the best from California. They are not as big, jammy and high in alcohol as the ones from southern California. The wine is very approachable. It is on the lighter, more burgundian style. The alcohol was still a reasonable 13.9% and the flavors are pleasant, sort of bing cherry and red raspberry that screams, "Hey, I will taste great with anything else in the store other than strong meats like lamb or beef." (Tasted in 2019) The wine scored an 88 on the Rick's Value Score.

Montecillo Reserva, 2010 Rioja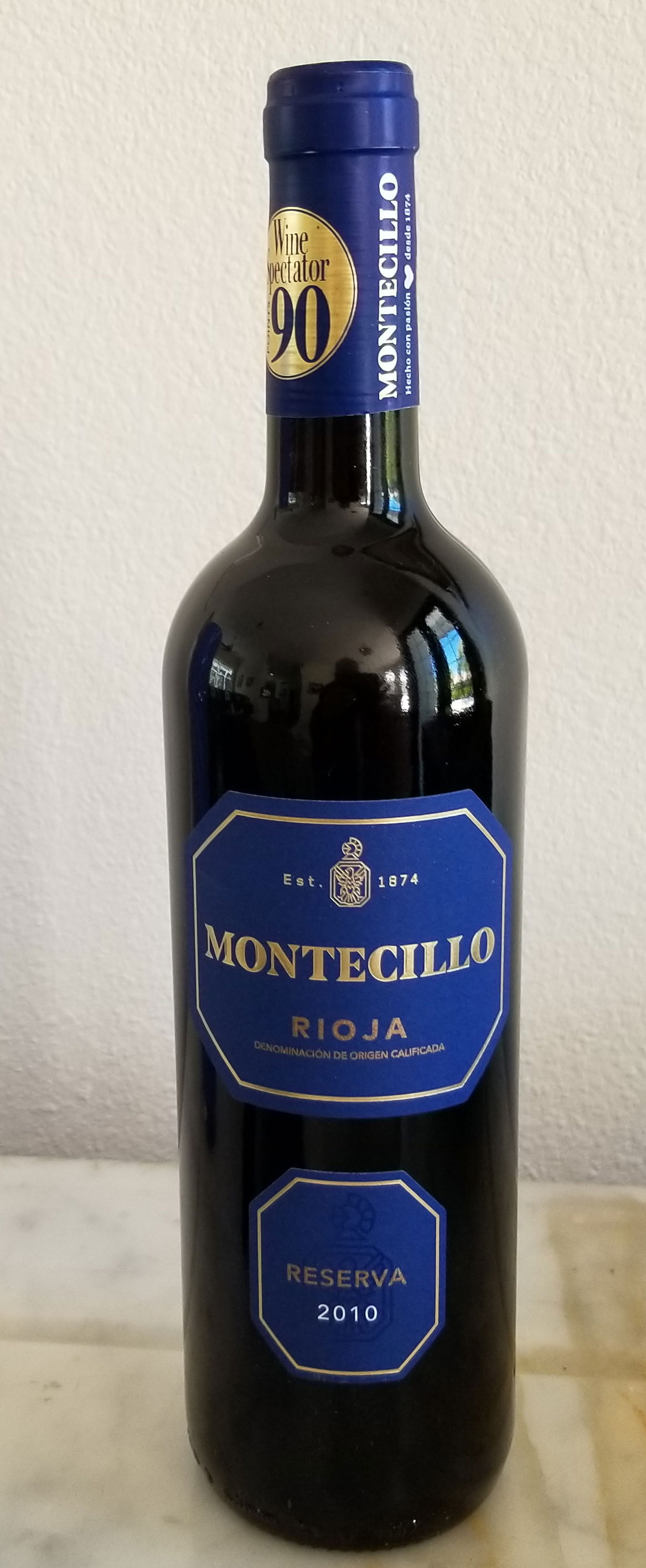 So here I was, minding my own business in a local big box store, when I stumbled upon a pallet of this wine. It was marked, $10.79 and with the instant $2.00 coupon, $8.79. My first thought was something has to be wrong with the wine. Good year, already aged for you, and it was a reserve. Normally you would expect to pay $18-$20 for the wine. Someone wanted to move through this wine quickly. Picked up a bottle and it was 13.5% alcohol. (Meaning it would go with food). So I bought a bottle to taste. Went home and immediately came back and bought a case.
The wine color was still red with no evidence of browning so it still has at least 3-5 years of life in it with good storage. It was elegant and smooth on the palate with just enough grip or tannins to still prove interesting. The bright fruit was muted by the oak. It still was good several days after opening stored in the fridge which is generally a good sign that it still has life. (Tasted in 2019) Wine Spectator got this one right and rated it 90 out of 100. The wine scored an 91 on Rick's Value Score.
1999 Chateau Les Tourelles de Longueville, Pauillac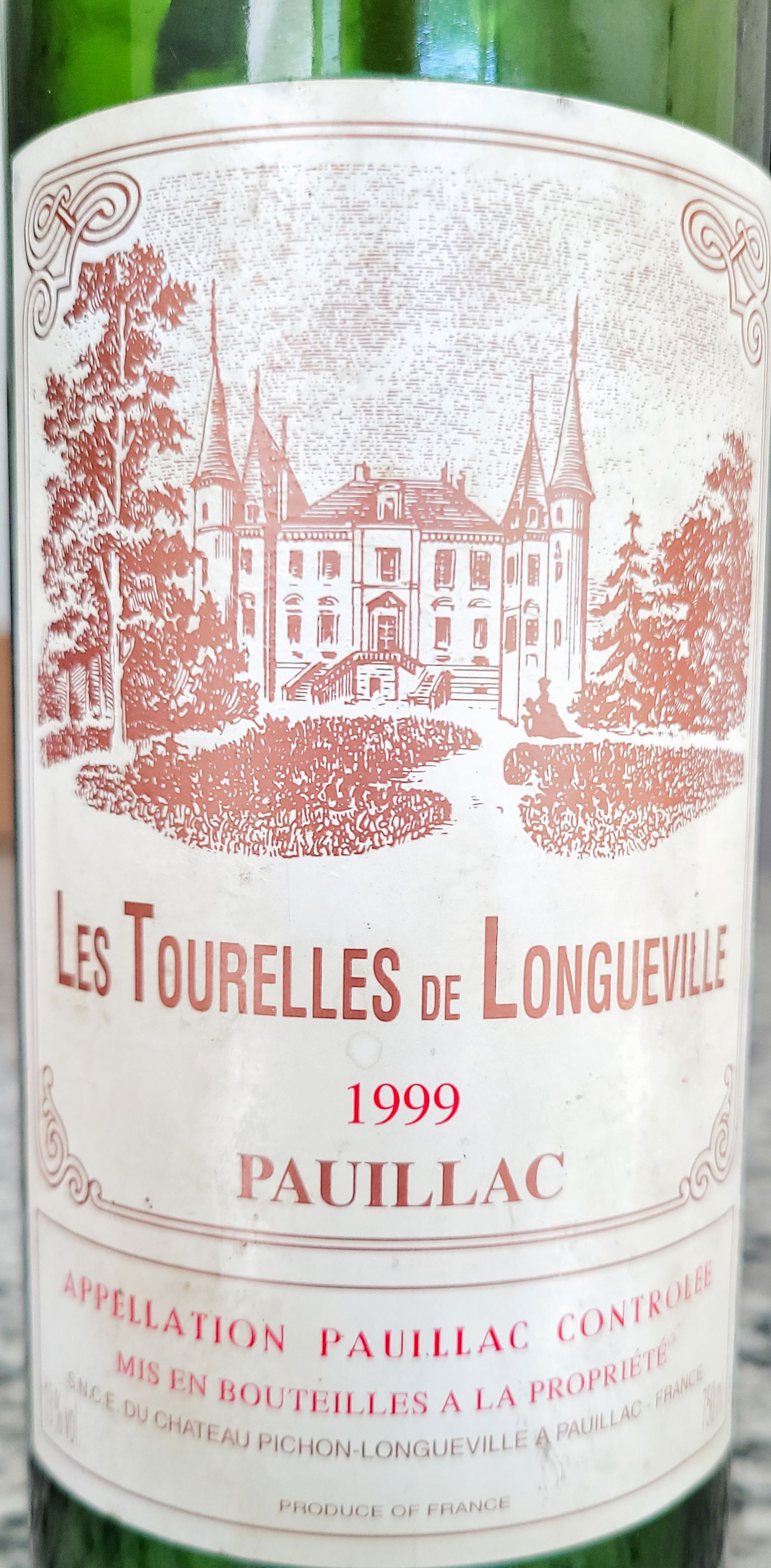 The second label of Pichon-Longueville, this is a bottle my wife bought when visiting her family in France shortly after the vintage came out and I put it immediately in my cellar. She paid roughly 30 dollars and it is worth around 100 dollars today. A wine like that you buy and keep not so much as an investment but for drinking pleasure: and it did not disappoint. We had it with confit de canard, another tradition of the Southwest of France for Christmas dinner.
Second wines of Chateaux don't age well? In this case it still had 10-15 more years of declining life. The vineyard is next tp Chateau Latour. The wine was only just starting to brown at the edges ever so slightly. All the harshness of youth had abated and for a Pauillac, (majority grape Cabernet Sauvignon) it was elegant with tremendous body yet totally silenced tannins and acidity. It was in no sense flabby. The brooding fruit was still there and tastes of hints of cedar still lingered. We decanted the wine and it opened up fully after 2 hours. It was so easy to drink, the two of us put away the bottle in no time helped by the alcohol content being now probably 12 of 12.5%. At vinification it was 13%.
(Tasted Christmas Day, 2021). The wine scored a 93 on Rick's Value Score.